Don't click too soon!
Read the information on the right. It will keep you from getting lost. There are two ways to see this material. I know it's the web thing to click, but on this site, he/she who clicks last wins.
---
Introduction
Current landscape
Investment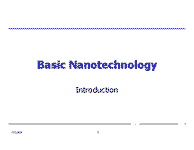 ---
Basic research
Manufacturing processes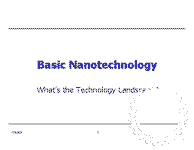 ---
Materials
Chemistry
Electronics
Energy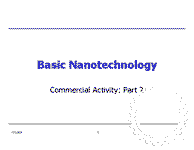 ---
Life Sciences
The Future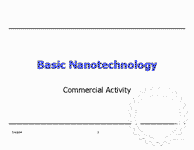 ---

This material was produced as part of a 4-part ten hour course designed to introduce the scope of nanotechnology. Use is hereby granted for educational purposes only. By viewing this material, you agree that you will respect the copyrights of the author and the authors of the various image content contained herein. Reproduction of this material for sale or any commercial use is prohibited.
The Downloads in this section take some time and open in a new window. Depending on which browser you use, the file may display in the new window (and then you can save the file), or your browser will ask you where to save the file. You have your choice of powerpoint downloads or PDF downloads

To download the powerpoint files, select from here:
To download the pdf files, select from here:
pdf files do not contain any of the dynamics or movies
In short, they're boring compared to the powerpoint files

| | | | | |
| --- | --- | --- | --- | --- |
| | | | | |
| 2.8mb | 5.4mb | 6.6mb | 5.1mb | 3.9mb |

Course Audio Files - email me for a copy
(wma format)

Don't forget to look at my other fine literary works.
You can support my writing habit, which will help me
support your nanotechnology affliction.
(click a book for more information)
| | | |
| --- | --- | --- |
| An excellent job of defining nanotechnology and discussing the potential benefits and challenges of nanotechnology | | A collection of previously published essays about Nanotechnology, Business, Life, and Japan. |