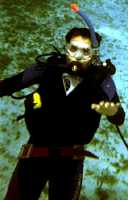 With over 30 years of tech experience, Glenn founded a company that struggled its way onto NASDAQ and went through all the trials and tribulations of bringing high tech products into the commercial marketplace.
Glenn currently manages the information technology operations of a global manufacturing company. In his spare time, he is chairman of the board of a high-tech company and helps technology startup companies acquire financing.
Glenn lives in Minnesota with his wife, 3 cats and a furniture shredding parrot. Hobbies include composing music, writing, scuba, biking, collecting old sci-fi magazines, & creative anachronisms of the mid '60s.